DraftDay Review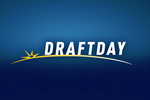 This review will cover the fantasy football product at DraftDay.
DraftDay Corporate Facts
Website Address: www.DraftDay.com
Email Address: support@draftday.com
Corporate HQ: 500 Mamaronec Ave Suite 204, Harrison, NY 10528
Who can play: All U.S residents except for residents of Arizona, Iowa, Louisiana, Washington, Montana, Vermont, Washington and Puerto Rico. Canadian residents can also play at DraftDay except for residents of Quebec.
Join Details and Sign-Up Bonus
Minimum Deposit: $10
Minimum Withdrawal: $20
Bonus: 100% Match
Promo Code: freak
DraftDay Fantasy Football Info
Player Base: Small to Medium
Games: Salary cap, pickem, bracket and live drafts
Payouts: Double Ups, Triple Up's, Qualifiers, Steps and Points Targets
Buy-in ranges: $0.25, $1, $2.20, $5.50, $11, $22, $55, $109
DraftDay Fantasy Football Tournaments
The biggest weekly football game they have is the weekly "Benjamin". This is a $109 buy-in that has the largest guarantee each week. A few contests that are unique are the start-em, sit-em contests that are fast and furious. You choose from a few options to build your team. No salary cap adjustments, just choose from one or another and go from there.
Playing The Game – Building A Line-Up
Depending on the type of game you are playing will determine how you build your line-up. In a traditional salary cap style game you are working with a $100,000 budget as the GM and you have to build your team from there. Here are the details:
DraftDay Football Line-up
Salary Cap: $100,000
QB:
QB
RB
RB
WR
WR
TE
FLEX
FLEX
DEF
*See the scoring rules
Thoughts on DraftDay
I like DraftDay. They are medium sized and they make themselves unique by offering games that the big sites, FanDuel and DraftKings, do not offer.
They are the largest of the small sites. That means they have a fairly large player base with a few thousand entries in their large weekly tournaments.
When you compare this number of entries to the big fantasy football sites in this niche, FanDuel and DraftKings, whohave tens of thousands of entries into the big weekly games, you can see that the fields are way smaller at DraftDay.
Another unique feature is that you  pick two QB's. The other sites only have one. You also get two FLEX positions (RB, WR, TE) where as you only get 1 on DK and non FD. You do not draft a kicker. FanDuel is the only site still drafting kickers.
They also offer pick'em drafts and live roto style drafts. This is something that the other two sites do not offer. The scoring runs high and it is fun to watch your team advance through the leaderboards on game day.
DraftDay
A look at fantasy football at DraftDay.com
Date Published: 10/20/2014
Learn about playing fantasy football at DraftDay.com