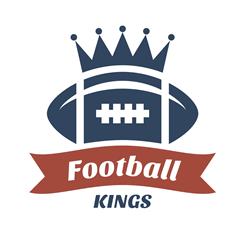 All fantasy sports sites offer football. It is the biggest core sport for all of the sites and the time when the vast majority of new players join. I am going to list the best fantasy football sites that offer daily and weekly games.
Top 3 Daily Fantasy NFL Sites
FanDuel – The market leader going into the 2015 football season is FanDuel. They boast the largest overall number of players and offer players a different experience than rival DraftKings. New players can use my valid promo code FREAK to lock in the maximum bonus of 100% on your initial deposit.
DraftKings – You will be hard pressed to find a better daily fantasy football site than DraftKings. They are my personal favorite site and where I play the majority of the time.
DraftDay – If you are looking for a small site to play on that has less players and more of a communal feel then you should give DraftDay a try. Use promo code FREAK to lock in the 100% bonus on your first deposit.
Games and Contests Available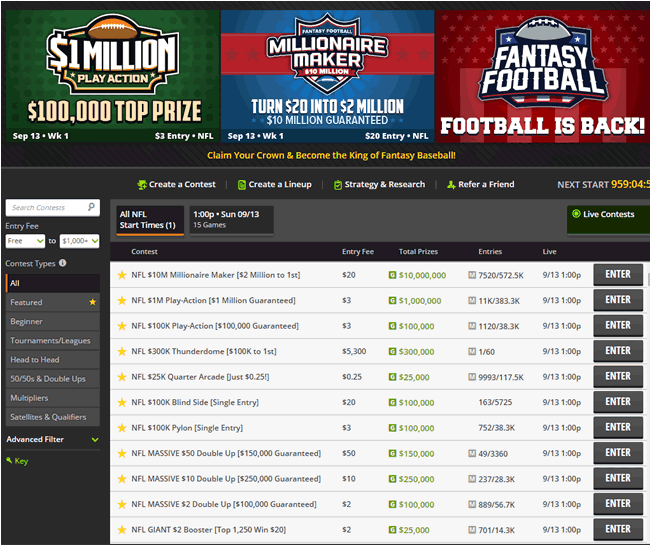 DraftKings FootBall Lobby 2015
Sunday and Monday Night Football Games
– Most common contests available, also the biggest during any given weekend. These let you pick players from the games on Sunday and finish up with Monday Night Football. The only games not included in these contests are the ones that happen on Thursday.
Sunday Only Games – These contests open and close on the games on Sunday only. You can only pick players who are playing on Sunday. These are smaller in size of field and payouts than the contests that include the Monday night sweat that you'll get once you have a team in contention for the money come Monday night.
Thursday, Sunday and Monday – These include Thursday night games through Sunday and or through Monday. All varieties are offered. Contests begin on Thursday nights games.
Tournaments


GPP Tourneys – Guaranteed Prize Pool tournaments. These contests attract up to hundreds of thousands of players. The big 'Millionaire Maker" Contests have 572,500 entries! These contests are guaranteed to run even if they do not sell out all of the seats. These contests take the 'perfect lineup' in order to win. But if you do win it can be life altering money, over $1 million. Size of field shrinks down into the less than 1000 competitors if you prefer a smaller tourney with guaranteed prizes. Featured GPP – DraftKings Millionaire Maker – Win $1 Million + any given weekend of NFL for a $20 entry. Honorable mention is the $0.25 "Quarter Arcade" where virtually all of us drop in a few lineups for a shot at thousands every weekend.
Single Entry Tournaments – I love these. Put in your one best line up and see how you do. You can only enter one time. In bigger GPP's you can put in multiple line-ups. Some players enter the max which can vary up to 500 entries. I like the DraftKings $100k "Blind Side" contest with a $20 single entry seat and just over 5700 seats up for grabs. $10k for 1st, solid.
Double Up's – These are double your money contests where you essentially have to beat just a little bit more than half of the field in order to cash. These are referred to as 'cash games' and they let you play a less 'make it or break it' style of fantasy football. All you have to do here is score higher than half of the others and you will double your entry fee. These contests range from heads up 1v1 games to massive doubles up with 28k entries. Featured Double up contest is the NFL Massive $10 Double Up. Compete against 28k others and beat 14k of them for a doubling of your $10.
Leagues – These are essentially cash games where the prize pool is determined by the number of available seats in the contest. They range from small leagues with as few as 4 players up to big numbers. Featured Contest: NFL $2k Safety with a $2 entry and 1150 seats on DraftKings.
NFL Pre and Post Season Games?
Pre Season
Both DraftKings and FanDuel offer pre-season games.
At the time of this writing DraftKings is offering a handful of GPP's starting at $3 with up to $25k up for grabs. Contests started on 8/7/15 this year. Pre-season games happen on Fridays and offer players from whatever games happen to be going. Tonight it is 6 different games to choose from.
Post Season
As long as there is more than 1 game available to draft players from there will be plenty of post season games. Stay tuned to see what type of contests and promotions are rolled out this year.
SuperBowl Games?
You will not usually find a superbowl contest with an entry fee. The reason for this is due to the laws regarding the contests. One of them is that you much choose players from more than one game. Since football is over except for the superbowl this is more or less impossible.
A few sites have tried in the past to tie in another sporting event with the superbowl in order to have a contest but it really has been a bust. There may be a free contest to play for a little fun and prizes but generally speaking there is not and will not be a fantasy superbowl contest for money entry.
How Does Daily / Weekly NFL Fantasy Work?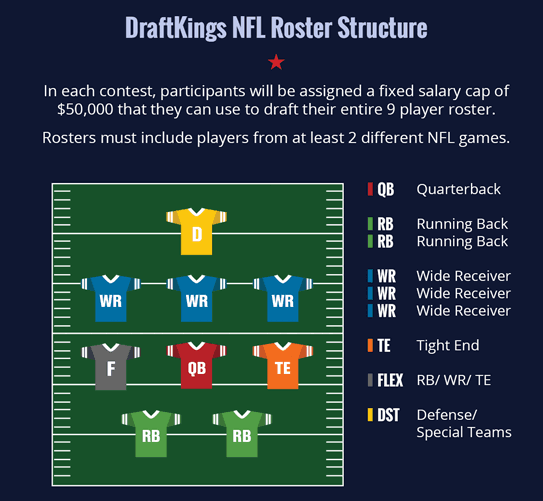 Games are done via salary cap.
You are given the position of the general manager. You have a strict budget you must not go over and you must fill out your entire roster. Depending on which site you are playing on will determine which positions you must draft for your team. You can see a comparison of DraftKings and FanDuel fantasy football here for reference.
Your players earn fantasy points by performing on the field. Running backs get points for yards gained and TD's. Quarter backs earn points for passing yards, rushing yards, td's thrown. A full list of points breakdown can be found in the link above.
Fantasy NFL Sites
There are a ton of sites out there where you can get your fantasy football tips, advice, line-up optimizers, weekly picks, rankings, depth charts and commentary from the pundits. Here are some of our favorites.
FantasyPros.com – Rankings from experts. Probably the best you will find online.
FantasyCruncher.com – A line-up optimizer. Monthly fee but lets you tweak and build lineups
More sites added soon
Reviews & More