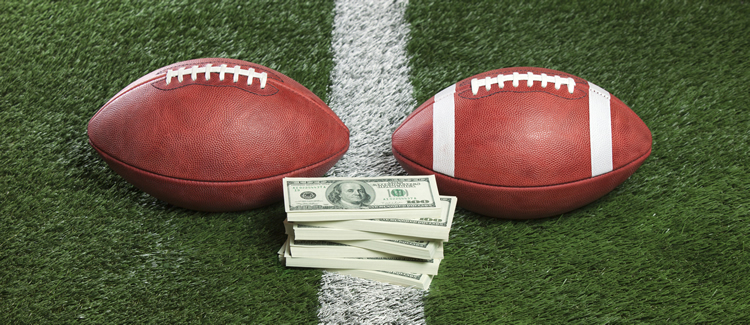 Just because the 2014 NFL regular season is over, doesn't mean that the daily fantasy action is over. At least, it's not over if you play on FanDuel. The site will not only have a big $25 game that has a $1.75 million guarantee, but they will also have games ranging anywhere from $1 up to $200 (in guaranteed games), meaning that we should all be ready for a full slate of games. While the daily GPP games for the NFL's first round of the playoffs are only going to include four games, it definitely doesn't mean that you shouldn't play, but it does mean that you should set up a nice strategy that can help you bring in some serious money. Let's look at a few tips for the weekend, and give some ideas on how you can make some money!
Sleeper Alert
There are still huge fantasy contests you can join for as little as $0.25 at
DraftKings
and as little as $1 at
FanDuel
– up until the Superbowl!
It's going to be absolutely crucial that you find the right one or two sleepers. For example, you can look at the guys who have been heating up in the later parts of the season. Cole Beasley is an example, as he's been a go-to option for quarterback Tony Romo, and he could get plenty of looks in a game where the Detroit Lions will likely do anything to stop or slow down Dez Bryant and keep Jason Witten from getting too involved. Martavis Bryant from the Pittsburgh Steelers has cooled off a bit, but he has that big play potential that's needed to make a run at these big GPP games. As for the quarterback position, there aren't really many options as "sleepers" but guys like Cam Newton and Andy Dalton are going to be interesting to watch, and their matchups are pretty strong as well. Tack on the fact that they are two of the cheaper quarterbacks, and it may be a spot to take full advantage of.
Injury Watch
Now, before anything you need to note that there aren't a ton of injuries that are brand new, but if there are, then find out who's filling the void. An example? Le'Veon Bell. The Steelers and Bell were dealt an absolutely brutal blow when the stud running back injured his knee on Sunday night, and it's likely that he'll miss the game this weekend. His backup will be Josh Harris, who looked pretty good during his spot duty. Harris costs just $5,600, and can help you save some money to put towards the other key positions, such as wide out where there are some expensive options on the table. While A.J. Green looks likely to play, he could be another player to watch, just in case he ends up seeing this concussion extend out a week, meaning that Mohamed Sanu could be a nice plug-and-play option at the wide out position, and he only costs $6,000.
Another interesting spot to watch isn't exactly an injury, and it's not even a player you can draft. This is the Detroit Lions' defensive stopper Ndamukong Suh. Suh was suspended for the playoff game against the Dallas Cowboys for stepping on Aaron Rodgers twice, and this means that the run game for the Cowboys may end up being a whole lot more effective this week. The Lions are typically a very good run defense, but this is a brutal blow for them, meaning that Murray's value (even though he's incredibly expensive) remains incredibly high.
Watch the Weather
It's worth noting that for both the Cincinnati at Indianapolis and Detroit at Dallas games the weather won't be a factor (unless the Cowboys leave the roof open when it's raining, which they won't). With that said, the Arizona Cardinals are heading to Carolina to take on the Panthers in a game where it's likely to be pretty chilly. I'm not expecting the weather to be a major impact there, but in Pittsburgh for the Ravens vs. Steelers, there's definitely a chance that weather could be a factor. It's all unknown currently, but make sure that you are at least keeping your eyes on the weather updates so that you don't end up missing something big.
It's a big weekend in the NFL, and it's time to make it a big weekend in daily fantasy football as well. The action starts on Saturday at 4:30pm EST, but make sure that you don't miss out on the chance to get in on the action and get registered as soon as possible before the games fill up!
Keep Reading