DraftPot Review – Legit?
This review takes a look at playing one week fantasy football on DraftPot.com.
I only review sites that I play at. And I'm playing on DraftPot.
You'll need a promo code when signing up, use FREAK to lock in a 100% bonus to $1500
So, why do I play on DraftPot when the big two sites are dominating?
Because Draft Pot does something way different than FanDuel and DraftKings. They have games with out salary cap.
They call them 'fan mode'.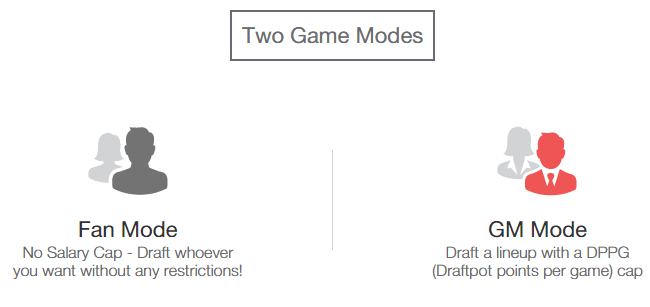 Fan mode lets you draft anyone you want.
Want Aaron Rodgers, Julio Jones, Antonio Brown, Gronk and any other stud you can think of? You got it.
There is no salary cap to worry about. Just fill out your lineup with whoever you want.
It's new. It's different. Most of all it is FUN.
Plus I just started playing in the NFL 2015 season and there is a LOT of overlay up for grabs right now. Overlay is extra money in the pot that the host site (DraftPot) must put in whenever a contest does not sell out. They STILL have to match whatever they advertised. That's one of the gotcha's with DFS sites to maintain legality. They have to announce the prizes before counting how many seats they sold first (opposed to a poker tourney where the prize pool grows as more players enter.)
DraftPot Details – Basics
Let's list out some details.
Company Details
Sports Offered
Football (NFL, CFB)
Basketball (NBA, CBB)
MLB
NHL
PGA
NAS
eSports (LOL)
Playing Fantasy Football at DraftPot
They have both salary cap games and no salary cap.
Football has heads up, leagues, GPP's and a nice mix of offerings. Small money games start at $1 and the big GPP each week is a $100k GTD contest with a $12 entry. It has just over 9000 entries available.
Build A Football Lineup
Here are the spots on your roster:
QB
RB x 2
WR x 3
TE
FLEX x 2
DEF
K
DraftPot Opinion, Comments and Thoughts
What sets them apart are the no salary cap games. It takes a different strategy (which I haven't mastered yet) than salary cap games. I've barely made the money the past few weeks. And that'd due to the overlay.
Overlay is there and up for grabs.
Since they are a relatively small site they do not sell out all of their seats. The big weekly football contest has a $12 buy-in and 9160 seats available. This past week they had less 6000 sold. They still have to give out their entire $100k. Per law.
Get in now while before the free money dries up. It will.
Let's take a look at a few screen shots from DraftPot.
Get in the game today.
Visit DraftPot
and I will see you on the leaderboards!
DraftPot
A look at DraftPot from an actual player.
DraftPot Fantasy Football
Written by:
FantasyFootballSites.net
Date Published: 10/20/2015
DraftPot Fantasy Site