FanDuel Review
Updated 8/6/2015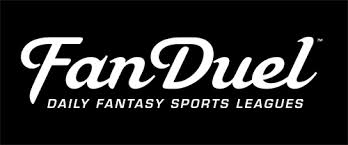 This review will cover playing fantasy football at FanDuel.
FanDuel.com Corporate Facts
Website address: www.FanDuel.com
Email address: support@fanduel.com
Corporate HQ: NY, New York & Edinburgh Scotland
Who can play: All U.S Residents 18+ except Arizona, Iowa, Louisana, Montana and Washington
Join Details and Sign-Up Bonus
Bonus offer: 100% Match on your 1st deposit to $200 (use promo code FREAK)
Active Promo Code: FREAK
Minimum Withdrawal: None listed
Minimum Deposit: $10
FanDuel Football Leagues
Player Base: Largest in the world
Games: Salary Cap only
Payouts: Double ups, triple ups, guaranteed prize pools, qualifiers, steps and survivor contests
Buy-in's range from: $1, $2, $5, $10, $25, $50, $100, $200, $270 & larger cash games
FanDuel Fantasy Football Tournaments – Huge Guaranteed Cash Payouts
The biggest weekly fantasy football league at FanDuel this year is the NFL Sunday Million. It's a $25 buy in with a $500,000 first place prize. The top 70 players make $1000 and up.
The next most popular contest is the $5 buy in NFL Rush which has $250k in prizes guaranteed. There are a lot of other choices though. The short answer is there are dozens of small buy-in guaranteed prize pool tournaments that you can play for a few dollars per line-up. If one of them hits then you can win serious money playing FanDuel fantasy football.
Football Scoring and Building Your Line-Up
FanDuel uses salary cap games. You act as the general manager and hire (draft) and fire (don't draft) your team. Fill all spots on your roster while staying under the salary cap. If you players perform on the field then you earn points. The more points you earn the better.
FanDuel Football Roster Spots – Create A Lineup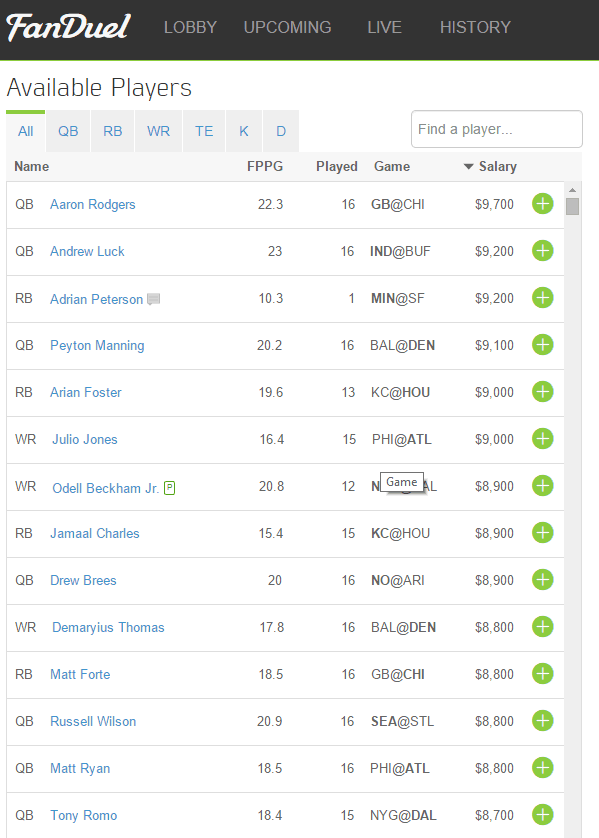 Salary Cap: $60k
QB
RB
RB
WR
WR
WR
TE
K
D
You can see a scoring chart here.
Thoughts on FanDuel
I love FanDuel. They are the largest daily style fantasy sports site in the world (ESPN / Yahoo! CBS are bigger but they are season long style).
They are legit and They are legal. You can play if you are 18 and live in a state where it is not specifically not legal (there are around 8 states where you can not play for money). Deposits are fast and easy using paypal or normal credit card. Except for those few states who's legislature decided that their residents are not allowed to spend their money as they choose, it's the fastest and easiest way to have a little action on the games via daily fantasy.
On FanDuel you have a ton of recreational players and a ton of seriously strong players. They are the largest so this is how it is. Same as DraftKings. You are competing against the most players, the most competition and the largest player pool of any of the fantasy sites.
You can win life-changing money at FanDuel and it is 100% above board. When you win, you will get paid.
Playing Fantasy Football On FanDuel

FanDuel uses a half point PPR league where receptions earn a half a point.
They also use a KICKER position. Drafting kickers is such a point of frustration for some players that they don't play here because they can play on DK without needing to draft a kicker. Others like the KICKER position and play FanDuel exclusively for it. The choice is yours on whether or not you want to involve the KICKER position on your team. If so, FanDuel is your option from the big two sites.
The drafting of your team is painless and intuitive. They are also planning on improvements to your in-game experience this year with improved leaderboards and ways to see how players are scoring across the board.
They are the current market leader and along with DraftKings will be the two largest sites this year in terms of players and money flowing in for daily fantasy football 2015!
FanDuel Review
Looking at FanDuel fantasy football leagues.
Date Published: 10/23/2014
My FanDuel review guides you through playing fantasy football at the worlds largest fantasy football site.