A Quick-Start Guide to High-Stakes Fantasy Football at DraftKings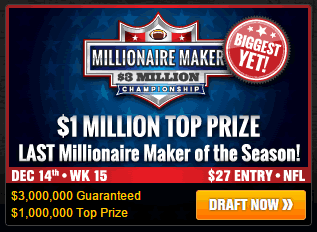 It's one thing to play weekly fantasy football at DraftKings. It's another thing entirely to jump into the high-stakes contests. In those waters, you have a huge opportunity to win big cash prizes.
As you'd expect, that opportunity comes with substantial risk. You're no longer staking $5 or $10 to compete. You're now putting up $200 or more to join a single contest.
If you're accustomed to paying $5 entry fees, competing in a high-stakes fantasy football league can seem scary. That's understandable. You have a lot more cash riding on the outcome. You'd also expect that big-money leagues attract players who rack up wins like Mike Tyson used to rack up knockouts.
But looks can be deceiving. The NFL season regularly draws newbie money into high-stakes territory. If you know what you're doing, you have a fair shot at making a tidy profit.
That's a part of what we'll cover on this page. Read on for a quick-start guide to competing in high-stakes fantasy football at DraftKings.
When To Tackle High-Stakes Fantasy Contests At DraftKings
You won't have any trouble finding high-stakes contests at DraftKings. They're open in practically every sport, from soccer and hockey to basketball and golf. Having said that, your biggest opportunities are going to be in football.
Why?
Because that's where most of the action is. Football attracts more fantasy players than the other sports combined. That means there's bound to be a lot more inexperienced players competing at every level, including at the higher stakes.
So if you're venturing into these contests for the first time, try to do so during the NFL season.
You should also have a fair amount of experience under your belt. Before you risk $200 or more to join a contest, you should already have played in a lot of lower-stakes games. That experience teaches you how to build solid lineups for different contest formats.
Only after you've competed in your share of low buy-in games should you even consider trying your hand in the higher-stakes contests. When you feel you're ready for the latter, be sure that you approach them with the right expectations…
What It Takes To Compete In High-Stakes Fantasy Football
When you're competing in $5 GPPs and 50/50s, it's easy to have a lackadaisical attitude. For example, you might spend very little time researching players, opting instead to slap together lineups at the last moment.
Of course, you want to win. Nothing beats the feeling of cashing, even at the lower stakes. But losing your entry fee doesn't hurt much. After all, it's only a few bucks.
When you're risking $100 or more to enter a contest, your perspective changes. Suddenly, you care a lot about whether you win or lose. If you hope to win, you're going to have to devote more time to scrutinizing players and finding good matchups.
Show me a successful high-stakes fantasy football player at DraftKings and I'll show you someone who spends a lot of time on research. If you want to compete with that guy (or gal), you'll need to do the same.
If fantasy football is just a way for you to relax and blow off steam, it's fine to take a laid-back approach. But if that's the case, stick to the low buy-in games. If you're going to compete in high-stakes fantasy contests, realize upfront that you'll need to put in several hours a week.
There's no other way to win on a consistent basis.
How To Manage Your Bankroll While Playing For High Stakes
No discussion of high-stakes fantasy NFL contests would be complete without talking about bankroll management. Being able to manage your bankroll is always important, regardless of whether you're competing in $2 GPPs or $200 double-ups. But it's critical if you're wandering through high-stakes territory.
With $2 entry fees, you risk losing $10 to $20 in a single session. It hurts, but not that much. With $200 entry fees, you risk going broke. And fast.
Bankroll management has a single goal: to help you stay on top of your cash position. It's not a matter of winning or losing. It's a matter of knowing how much to risk and how to allocate the money at your disposal. In short, proper bankroll management keeps you from going broke.
So how do you manage your cash while competing in high-stakes fantasy football? The same basic principles that you use for lower-stake games apply.
First, don't risk more than you can comfortably lose.
Second, set a ceiling based on a percentage of your total bankroll. Don't risk more than that amount at any given time. Depending on your experience and aversion to risk, your percentage will probably fall between 10% and 25%.
Third, track your results. We've talked about this in past articles, so I'll avoid going into detail here. Suffice to say, you should be tracking your wins and losses by contest format and field size.
Those 3 principles will help you to manage your cash while playing in high-stakes fantasy games. They'll also help you decide whether you should even be playing in these types of contests in the first place. For example, if you have a $300 bankroll, don't enter a $200 50/50.
Choosing Weekly Fantasy Football Contests At DraftKings
We've talked in the past about sticking to low buy-in 50/50s when you're getting started with daily fantasy sports. That lowers your risk and gives you flexibility. You can test different approaches to building lineups without risking a huge sum of money.
Is the same advice true when you're competing in high-stakes games?
Yes and no.
50/50s offer some of the best odds you'll find at DraftKings and other fantasy sites. The top 50% of the field receives a payout equal to twice the entry fee less the site's rake. That's the case whether we're talking about $2 or $200 entry fees.
So for 50/50s, the advice is still sound.
GPPs and other tournaments deserve a closer look. At lower stakes, you'll be competing against hundreds – and sometimes thousands – of other team owners. Unlike a 50/50, the prize pool is distributed to the top 10% to 20% of the field. Most of it goes to the top 1%.
Your chances are winning are linked to your ability to draft players who offer a ton of upside potential. There's a lot of variance at play.
GPPs are a different animal at higher stakes. The higher entry fees shrink the field. For example, DraftKings is currently hosting an NFL $3K First Down contest. The buy-in is $1 and up to 3,450 players can join. By contrast, DK is also hosting an NFL $12K Touchdown contest. The buy-in is $200 and the field is limited to 66 players.
There's less competition for the prize pool. You don't have to take the same gigantic risks that you would need to take if you were competing against thousands of team owners in low-stake, large-field GPPs. You can build your lineups around players who are more dependable.
All contest formats are worth considering at the higher stakes. But keep in mind that head-to-heads (H2Hs) tend to draw very experienced players. Approach with caution.
High-Stakes Trouble: 3 Warning Signs That You're In Too Deep
Let's say you're fully immersed in high-stakes fantasy football at DraftKings. You've jumped in with both feet and haven't looked back. Be aware of the following red flags that suggest you're getting in over your head.
#1 – You're Hemorrhaging Cash
With $200 buy-ins, it doesn't take long to blow through your bankroll. That's particularly true if you're making frequent deposits and neglecting to track your wins and losses. It's easy to fool yourself into thinking you're doing better than you really are.
It's impossible to overstate the importance of tracking your results when competing in high-stakes fantasy football. I recommend using a spreadsheet and reviewing it at the end of each day. Stay on top of your losses. Pull the plug on your betting activity if your losses spiral out of control. Figure out what you're doing wrong before jumping back in.
#2 – You Don't Know How Much Money You've Won Or Lost
You should have a solid grasp on the amount of money you win or lose each week. Suppose someone were to ask you "How did you do in fantasy football last week?" You should be able to respond, "I won $1,350!" or "I lost $275."
If you find that you're about to respond "I did okay," you're not tracking your results closely enough. Or you're not taking the time to adequately review them.
Either way, you're in the danger zone.
#3 – You're Depending On A Win For Your House Payment
This should go without saying, but there are a lot of fantasy football players who routinely risk their grocery money or house payments. If they don't win, they don't eat.
That's a dangerous and foolhardy way to approach high-stakes fantasy football. If losing a 50/50 means falling behind on your mortgage, it's time to slow down or take a break.
When To Venture Into High Stakes Contests Beyond DraftKings
Is there life beyond DraftKings? Of course. FanDuel is just as good (both sites have their respective strengths).
But it pays to focus your high-stakes activity on one site, at least in the beginning. Get familiar with the site's scoring system. Learn who the most successful team owners are. Hone your draft strategy based on the site's roster requirements (FanDuel requires you to draft a Kicker while DraftKings allows you to draft a FLEX player).
Once you've done those things, feel free to spread your wings and enter high-stakes contests at another fantasy site, such as FanDuel. Until then, I strongly recommend sticking to a single site.
If you thought playing in $2 GPPs and $10 50/50s was exciting, try entering a contest with a $200 buy-in. Bu be prepared to spend a considerable amount of time researching players.
Trust me… that's what your competition will do.
Great Reads