3 Differences That Make FanDuel Better Than DraftKings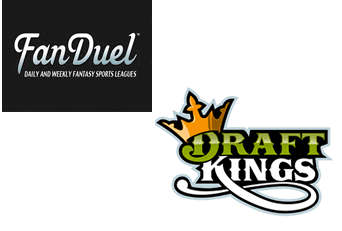 The world of daily fantasy sports is at an all-time high currently, and it's for good reason. There are so many games, multiple different sports and a ton of money to be won. With that being said, it's important to note that not all daily fantasy sports sites are created the same. When we say that, it doesn't mean that any of the sites that we talk about are bad, by any means, it just simply means that sometimes a site has benefits offered that make them more attractive than another site. This is what you'll find in some ways with FanDuel, mainly because they are the largest and most popular of the daily fantasy sites out there. FanDuel has been around since 2009, and they've just continued to grow and get larger, with the past year or so being absolutely massive for this popular site.
FanDuel will offer you massive guarantees, a wide range of games and buy-ins and excellent customer service. I'm not sure if you've ever deposited/withdrawn or needed to work with customer service, but if so, you've likely had very few issues with having them get the job done on whatever you needed. Now, let's take a look at a few differences that give FanDuel an edge in some areas over the likes of DraftKings, and the other competitors as well.

I like both
FanDuel
and
DraftKings
. They are on top of the daily fantasy football market. You should have accounts at both sites.
FanDuel is Offering $1 Guarantee Games
This may not seem like a big deal to most, but it can absolutely make a difference. One of the keys to playing in daily fantasy sports is to be able to set yourself up with many lineups that give you a shot at winning some serious money. Throughout all of the sports you are going to find boom-or-bust players, and spreading them out throughout many different lineups, or even putting them together in one lineup can be big. FanDuel offers both $1 and $2 massive guaranteed games in most of their sports, while DraftKings offers $2 and $5 games (both offer more than just these, obviously). The general idea is simple though, if you want to beat out thousands and thousands of players, making one lineup probably won't get the job done, unless you really strike gold. Making multiple lineups is a great strategy to use when playing daily fantasy sports, and this is where the $1 games come into play. Say you want to make 20 lineups for a game, doing it on the $1 FanDuel game instead of the $2 DraftKings game, with a shot at more money, is definitely going to be the appealing option.
Many players will load up rosters on the low-dollar games, and then put one or two rosters into the $25 tournaments that have the massive guarantees (the $2.5 million guaranteed NFL game, for example). The difference between $1 and $2 isn't the end of the world, but over the span of a week, playing in a ton of $1 games compared to $2 games can make a difference, and it's something that's absolutely worth noting.
Sizes of Guarantees
While you can't dislike the massive guarantees that DraftKings puts out, including their $2.2 million NFL game, FanDuel's guarantees seem to be larger almost across the board. They usually run things like a $2.5-$3 million guarantee in the NFL, while offering a $100k guarantee on just a $2 buy-in, which is often times bumped to $125k or $150k, while also offering a $1 game with between a $50k and $100k buy-in. Both sites offer great guaranteed money, but if you want the largest guarantees in the business, then FanDuel is the way to go. Their guarantees simply benefit all levels of players, and regardless of whether you play for $1 per game or $1,000 per game, you'll have a shot at bringing in some serious money at the end of the day.
Strategy Center
The strategy center is a very nice added touch for FanDuel players. There are so many options on a weekly/daily basis in the games that are offered that it can actually be slightly overwhelming. Using the strategy center is a great way for you to be able to narrow down your options and get some information as to which players could end up having huge nights thanks to matchups or simply due to the fact that they've been on fire as of late. You can get some game-changing data through this center, and it's only something that FanDuel specifically offers. There are plenty of sites for you to do research on, but being able to do your research on the same site that you fill out your lineups on is a very nice added touch.
More